"And I knew the silence of the world"

---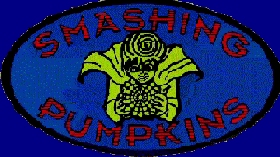 I saw The Smashing Pumpkins December 14, 1997 at the Cow Palace in SF with my parents and my friend Jillian.
Opening for SP was Garbage. I wasn't into Garbage at the time (though I am now) so I'm not sure about all they played. I know they played "Only Happy When it Rains", "Stupid Girl", "Queer", "Fix Me Now" and "Number 1 Crush". Also, I'll assume they played "Lover's Box" because at one point Shirley played a slow song on her red guitar and I've heard she does that for said song.
The guys in the band were cool but Shirley was being a twit. I think they had an extra bass player.
Okay, the Smashing Pumpkins. Here's a semi correct set list (I didn't know some of the songs and don't remember the exact order):

Mellon Collie and the Infinite Sadness, Tonight Tonight, Where Boys Fear to Tread, Jelly Belly, By Starlight, Cherub Rock, Zero, Here is No Why, Rocket, Drown, Ode to No One, Porcelina, Aeroplane Flies High, Thirty Three, Disarm, Bullet with Butterfly Wings.
Encore: Muzzle, Thru the Eyes of Ruby.

This concert was okay. They didn't do much other than play the music, they didn't move around or anything. And I must admit that when they were doing the long stretches of just music in TAFH, I kinda spaced out and forgot where I was and my friend fell asleep. We were disappointed they didn't do 1979, Quiet, Siva, Soma or Mayonaise, but I was super suprised and happy that they played Here is No Why and Thru the Eyes of Ruby. The concert was LOUD. My ears hurt afterwards (I have sensitive ears and I don't like really loud noises). Too loud. The music was distorted and didn't sound as well as it could have.