I've got to get you out of my mind....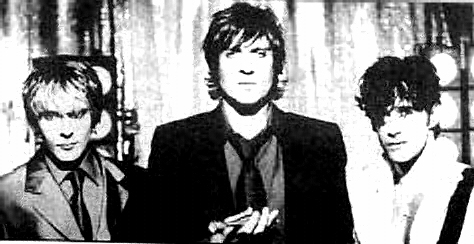 Duran Duran
September 2nd, 1999



Ah, I am so glad I went to this concert! Right now it is 12:30am and we got back about an hour ago. This particular concert was at the Concord Pavillion, and I went with a most unusual crowd, my sister Raven and a bunch of people that she works with.

To start off, I have had a long week without any sleep so all day I was thinking "I am going to totally crash at this concert." I had to drag myself out of bed to get ready by 6 o'clock. (No, I'm not that lazy, I was taking a nap after being at work for ten hours.) Since I wouldn't be hiking up the hill at the Shoreline or anything, I decided to kinda dress up, as did Raven. She came and got me at 6, and we headed over to the Skipolini's pizza place in Clayton to meet everyone else. We had dinner and talked about random things then at um, a little after 7, we went over to the Pavillion. Hah, there were like, NO cars there, only about a hundred or so. We all get up to the gate and the ticket person tells us that the opening act had to cancel, there will be a dj and Duran Duran will be on at 9. Yay. So we all stand around for a while, get shirts and stuff. Raven and I both got the black shirt with the atom heart thingy on it. The programs were hella expensive (25 dollars) so I didn't get one. I must add at this point that Raven's coworkers were on crack. They were teasing me, trying to find some hot guys for me. <pout> I don't think it worked, I am too picky. Ah, I also saw a girl from my school, so we were joking about how Duran Duran sucks and it's all about ABBA.

At 8, we start heading down to our seats. Kudos to Raven for getting cool seats. We were right even with the light booth thingy. The dj was pretty good, I liked the music even though I think it was the same song for a half hour.

At nine the lights dim and all the guys walk out onto the stage, line up, then start to play....

Girls on Film ...ack, the lights almost made me have a seizure...

Hungry Like the Wolf ....um, I don't think they did a full version of this song, it was only about three minutes long.

Notorious

Um, I can't read what's on my hand...I didn't take a notebook to write the setlist in this time, so I just wrote all the songs on my hand and wrist. I'm pretty sure Raven told me the name, I just can't read it. Skin - Hallvelkuhg. That's what it looks like. <shrugs> Oh wait, I think this was one of the few songs we didn't know...um, Simon was wearing this shiny silver shirt. Actually, I think my hand says Shine Hallvelkuhg.

Get You Out of My Mind ....Hah, one of the few songs that Raven didn't really catch but I recognized instantly. At the beginning, Simon brought this candle out from behind the drum kit, lit it and put it down by the base of his mic stand.

Come Undone ... it took me a while to recognize this song....now I've had it in my head for the last hour and a half.

All She Wants Is

Friends of Mine

Someone Else Not Me ...this was very cool. Only it reminded me of watching a movie set in the fifties cause um, this song would be playing at the prom during the movie.

Secret October ....I think this is the name, I kinda recognize the song, but not really.

Freeze - White Lines ...one of the ones I didn't recognize, though I caught the whole Freeze and "White Lines - Don't Do Them" bit.

-Love?- ...another song we weren't familiar with.

Onto the song on my wrist now...

Electric Barbarella ....hahah, it had been hella long since I had heard this song. It was cool.

Planet Earth

Yesterday ...another slow, not really familiar song.

Then they attempted to leave the stage. After much yelling and banging, they came back out. Simon said "My, you guys are loud....and I just love that stomping thing, it makes my trousers smile."

Pop Trash ....Simon said this song will be on their next album...

Reflex ....started up about five seconds after Raven whined "I want them to play Reflex!"

As the finale, they dropped the large curtain that the images were being projected onto. In it's place was the large....swirly thing that was on the tourbooks and stuff. then they closed with...

Rio ...which everyone had been screaming about for ten minutes.

During the course of the concert, Simon mentioned that it was being taped for some PBS telethon thingy. His, uh....prancing reminded me of David Gahan. Entertaining.
After they left the stage for the last time, I tried to get the soundbooth guy to give me his setlist but he said that the bands keeps them or something. Pah. Oh well.
All in all, a very entertaining concert.
And you know a concert is good if you're not really into the band and it *still* entertains you.

.